Roscoe Mitchell / Mike Reed: In Pursuit of Magic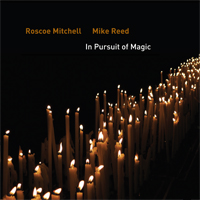 year: 2014 | cat#: 482-1088
Tracks
| | |
| --- | --- |
| 1. | Constellations Over Denmark |
| 2. | Light Can Bend |
Buy Online
Buy now at 482music.com:
Free shipping within the continental U.S.
Or at these retailers:

Mike Reed and Roscoe Mitchell reunite for two masterful extended improv pieces, recorded live at Constellation Chicago
Musicians: Roscoe Mitchell (reeds), Mike Reed (drums, percussion)
"A meeting of an avant-guard legend and a few decades younger disciple, one of the most active animators of the modern jazz scene in Chicago - ain't that a definitive prove of art's continuity? The recording catches two masterful magicians in the act... just follow them as they show you the amazing new worlds and all its wonders. A definitive recommendation." — Jazz Alchemist
" ..an extraordinary duo no matter what way you hear or see what they are doing. I do believe in magic and this is it." — Bruce Gallanter, Downtown Music Gallery
More Information...
Roscoe Mitchell / Mike Reed main page at 482music.com
Copyright © 2017 482 Music